Kait Gamble Fuel to the Fire Exclusive

Fuel to the Fire is a second chance story set in gorgeous St Lucia so readers can expect sun, sand, surf and a lot of sex. The first time around for Jackie and Logan was an unmitigated disaster. There were a lot of things left unsaid and many questions that were never answered when Logan walked out of her life. When they meet up again the chemistry between them still crackles. Along with it comes a lot of mixed emotions and a very physical attempt at getting closure.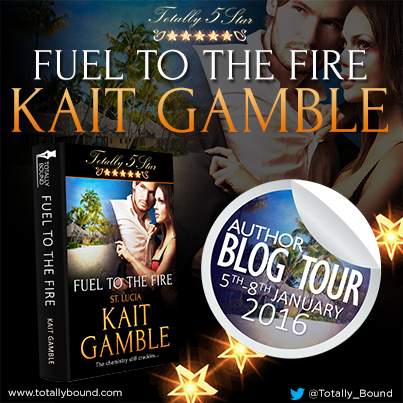 What made you decide to set your second Totally Five Star title in St Lucia?
After the very urban Monaco in Breaking Rossi's Rules, I wanted to take this book somewhere more laid back and tropical. There are just so many places that could have fit the bill but as I was browsing locations images from St Lucia stuck in my mind. It's a place I've never been so I thought it would be great to travel there even if it's only in my mind.
Did you have to research the location much in order to write the book?
I did. Having never been there, I studied maps and travel guides to get a basic idea of how a Totally Five Star Hotel would look and work on the island.
This is your second Totally Five Star title. What made you want to write for the imprint again and did your approach to writing it differ to the first time round?
I guess I just love writing about the rich and the lives they lead. I had such a good experience writing the last Totally Five Star title that I had to dive back in with another. This time around I knew next to nothing about the location so I had a lot of fun with the research. After that, the approach itself didn't differ too much. The characters were there in my head nagging me and bickering with each other the whole time. All I had to do was write it down.
Tell us a little bit about the chemistry between Jackie and Logan. How hot is this read?
The chemistry between them is combustible. Even though they both have their reasons for the mutual anger and distrust, Jackie and Logan can't keep their hands off each other. Being stuck together at a resort gives them ample opportunity and as many locales to express their attraction.
What can we expect from you next at Totally Bound Publishing?
Next from me is Weathering the Storm, another reunion story. Maia and Alex had an idyllic relationship when they were at university together, but after Alex mysteriously disappeared Maia is left heartbroken and untrusting of men. Years later they meet up again by chance but Alex doesn't remember a thing about their past. Stuck working with Alex, Maia tries not to notice the chemistry between them still burns and does her best to avoid him. But Alex is intrigued by her beauty as much as her anger at him especially since her story about their past doesn't seem like a lie. Can he find out the truth and get her to open up her heart to him again?
Love the sound of Fuel to the Fire? Follow Kait Gamble's blog tour this week to find out more about this hot new release!