The King of Infierno Exclusive

Totally Bound speaks exclusively to Jasmine Hill about The King of Infierno, the newest addition to our bestselling Totally Five Star imprint.
What can we expect from The King of Infierno?
To be swept away by the romance and of course the eroticism! You'll feel anxious, excited and dying to turn that next page. I want you to lose yourself in the story and imagine that you are the one staying in a luxury hotel with a very hot and dominant alpha male — where you can also almost feel the bite of a large palm on your backside as he introduces you to the erotic pleasure/pain of a spanking…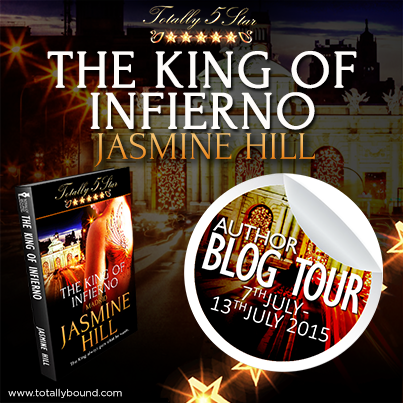 Makayla is innocent and inexperienced. Why did you choose to write a heroine like this?
I like the idea of how a heroine with these qualities could entice a Dominant male. Makayla's naivety appeals to the possessive and protective traits in Donovan's nature. It means that Donovan can nurture and cultivate Makayla but he can also wield his alpha male tendencies with a toe curling dominance!
Your Totally Five Star hotel is in Madrid, why did you choose to set your book in Spain?
I currently live in Madrid and I feel comfortable writing about places I know and I'm familiar with. Also, Madrid is a beautiful city. Unfortunately it often gets overlooked as a city to visit in Spain, many people preferring the sun and beaches of the south. But Madrid has a special charm, it's architecture and buildings are fabulously impressive and it has an overall culture of sophistication and elegance that really works for my storyline and my hotel.
The blurb alludes to "clandestine BDSM activities." This sounds very enticing and exciting! Can readers expect a lot of BDSM in this book?
Yes! There's plenty of BDSM activity in The King of Infierno. Expect numerous scenes, different toys and varying locations! There's a little vanilla and a lot of kink!
What are your three favourite characteristics for your Doms?
Strength: physical strength but also strength of character and principles.
Possessiveness: there's something hot about an alpha male getting territorial and protective over his woman.
Virility: masculine and sexually intoxicating. The type of man who every woman wants!
How did you get into writing erotic romance?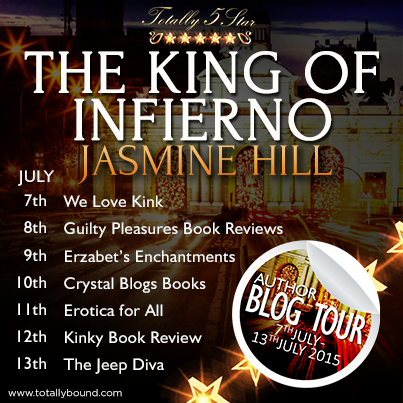 I love reading and the romance genre is one of my favourites. I read sweet romance when I was a teenager and I've always loved the classics, but as I matured, the sweet romance started to leave me feeling a little frustrated. I think it was around 2008/9 when I first discovered that erotic romance was becoming more popular. I loved reading the genre, for me, it was more stimulating and exciting and I immediately thought this was something I wanted to try my hand at writing. I investigated various publishers, read their novels and started to write my first book, From Leather to Lace. When I was happy with it I submitted it to Totally Bound and after some changes that were suggested by the editor, I had my first publication!
What can we expect from you next with Totally Bound?
I loved writing The King of Infierno so much that I've bid on another city for the Totally Five Star series. This next location is very different. It's a city that I lived in. I loved it and was frustrated by it on equal levels! It's a city full of vibrancy, colour and customs. Please stay tuned…
Check out the rest of the blog tour for The King of Infierno and see what else Jasmine has to say about this newest release!
Like the sound of The King of Infierno?
Buy it here: https://www.totallybound.com/the-king-of-infierno