We've had a makeover!
Posted by Charlotte Kirton on 7th July 2015

Welcome to our new website!
Totally Bound Publishing, the Home of Erotic Romance, is now exclusively publishing M/F and M/F/M ménage. Our wonderful new website is bound to make your book shopping experience even more enjoyable! We'd like to tell you about some of our fabulous new features: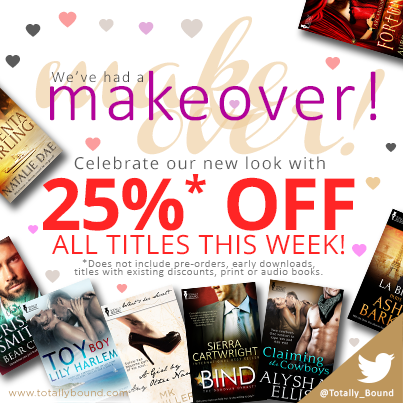 Stuck on what to read next? Head over to our Booklists page to see our 'playlists' of titles. These are effectively lists of books which feature a common theme. Are you a fan of hot biker boys? We've got a list of books which surround the intense thrill and excitement of motorcycle clubs! These booklists make searching for future reads totally simple.
Your account tailored to you
Your Totally Bound account will now become the hub of your Erotic Romance shopping list. Your account will remember your genre preferences and will automatically recommend new reads to you. There will also be plenty of tailored discounts to suit your reading desires which will be exclusively presented to you upon purchasing.
Reward scheme!
We've changed the way we reward loyal customers! Shopping with Totally Bound is even better. Our new scheme means that for every nine books you purchase, you'll receive the tenth free!
Blog
Our new blog will feature guest posts from your favourite authors, interviews with readers and reviewers (let us know if you'd like to get involved!), featured book posts, fun features and industry news.
If there's anything else you'd like us to write about, email our Marketing Assistant Charlotte Kirton (charlotte.kirton@totallyentwinedgroup.com) and our team will get researching for you!
Each month one of our authors will be releasing Special Editions of some of their top titles. These new editions will have extra content, whether it's extra chapters, an epilogue or extra scenes throughout. This month's Special Editions author is Nichelle Gregory! We'll be celebrating with various discounts and interviews throughout July, so keep your eyes peeled for exciting features!
---
We hope you enjoy settling in to your Home of Erotic Romance and enjoy taking advantage of everything our new website has to offer! From the 7th to the 14th July we are taking 25% off all our eBooks. We hope you have fun shopping for your new summer romance reads!
---
Love GLBTQI fiction? All our GLBTQI Erotic Romance titles have now moved over to Pride Publishing.