Senior Editor Sarah chooses Carousel by Aurelia T. Evans
Posted by Charlotte Kirton on 6th July 2015

Editors Choice: Carousel (Arcanium #2) by Aurelia T. Evans
'Welcome to Arcanium, the Circus of Lost Souls.'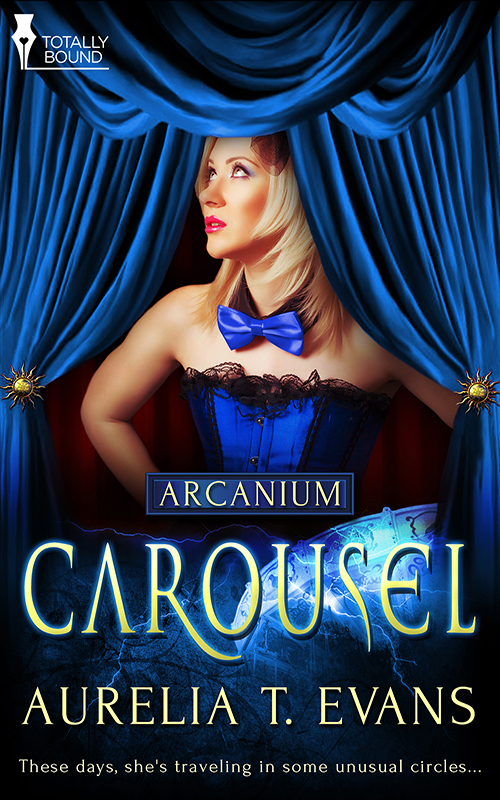 Carousel is a super novel from our Horror, Paranormal and Ménage & Multiple Partners genres that provides the ultimate escapism. Find yourself transported to the world of Arcanium, 'the Circus of Lost Souls', where you'll get to meet demonic clowns, fortune tellers, contortionists, snake charmers and other characters from beyond your wildest dreams.
So what are you waiting for? Come join us as we run away with the circus…
---
Here's what Sarah Smeaton, Senior Editor, has to say about Carousel:
"Aurelia's Arcanium series brings something totally new and unique to the table ­­­­– her imagination is limitless! Carousel offers an enticing and thrilling new perspective on the Arcanium circus that we have grown to love from the outset with Fortune.
Aurelia goes where other authors might fear to and I really admire that in her. The characters in Arcanium have so many dimensions that even those we may usually be adverse to, such as demon clowns, become completely acceptable. Aurelia challenges society's ideals and norms, allowing us to empathise with characters we never expected to!
Carousel was a pleasure to edit and I can't wait for you all to meet the undoubtedly vibrant, talented characters that Aurelia will bring to us in the rest of the series!"
---
Blurb for Carousel:
These days, she's traveling in some unusual circles…
Before her father can kick her out of the house, Caroline runs away to join the circus. She's far from the oddity or performer that Arcanium is known for, but the fortune teller grants her wish to become a part of his circus and assigns her to run the carousel.
It's repetitive work and the quarters are cramped, but it's the perfect job while Caroline figures out what the hell she's going to do with her life.
Then some of the creepy carousel mounts—the ones that look like tormented human men—start coming to life at night. At first she thinks they're just dreams, but she quickly discovers that Arcanium is no ordinary circus.
Caroline must not only come to grips with the shady motivations and affections of her new colleagues, but also with the driven desire inside her for Riley and Colm—the men bound to the carousel to atone for their sins, who beg her to save them.
Reader Advisory: This book contains horror-related gore and violence, a scene of miscommunication where sexual assault almost occurs, but all sex scenes within Arcanium are consensual. Includes MF and MFM sex scenes and multiple partners. Warnings for demon clown sex (it's just as weird but hotter than you think— avoid if coulrophobic), sex with well-endowed demons, and voyeurism.
Series blurb:
Welcome to Arcanium, the Circus of Lost Souls. Stay a while and feast your senses on the world-famous collection of human oddities and marvels, with death-defying daredevil acts and breathtakingly beautiful performances of strength and skill.
Unbelievable talent, undeniable passion, unspeakable horror! You won't believe your eyes!
Just take care not to make a wish in front of the fortune teller or threaten any of the cast, or else the denizens of this demonic circus will ensure there is hell to pay. Literally.
These are the stories of the cast of Arcanium—and the wishes that bind them there.