Breaking Rossi's Rules Exclusive

What can we expect from Breaking Rossi's Rules?
As a story set in the Totally Five Star world readers can expect a luxurious escape in the form of sun, sand, exotic cars, glittering gems, dazzling couture, a good dose of Monegasque glamour and a lot of sizzling sex.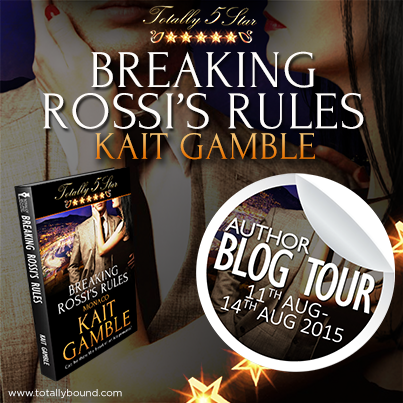 This is part of the Totally Five Star series, why did you choose to set yours in glamorous Monaco?
When my editor suggested I write for this line she mentioned luxury and the first place I think of when I hear that is always Monaco. How many other places on the planet can claim champagne as the national drink?
A billionaire and an ice princess sounds like an interesting mix! Why did you choose to write about characters like these?
Luca being a billionaire was something that had been planned from the beginning. Anika's character evolved as I wrote her. It just made sense that she became who she was thanks to her having to constantly have to keep up a façade under the near constant media scrutiny. They definitely were an interesting combination to write. They were so much alike in some ways and complete opposite in others. They kept me on my toes making this one of my favourite books to have written.
Both characters are escaping to Monaco for a break, did you enjoy writing about this holiday-like romance?
Absolutely! I've always loved reading romances that place in exotic locales it's one of the reasons why I started dreaming about travelling the world when I was younger. Writing about Monaco gave me a bit of an escape and I hope it does the same for my readers!
What do you prefer writing, series or standalones?
To be honest it depends on my mood. There are times where I enjoy the puzzle solving aspect of writing a series. There are so many elements that a writer has to keep an eye on and align. It can be quite the headache. But depending on what's going on in my head sometimes I have no choice. I just go where the story takes me.
How did you get into writing erotic romance?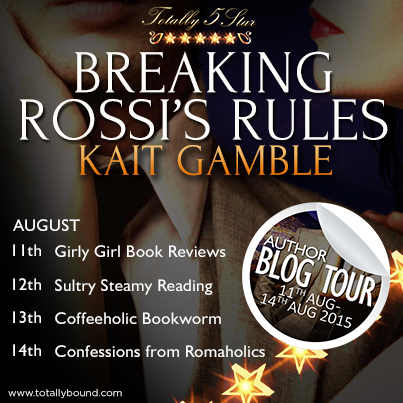 To tell the truth, it was kind of accidental. I never thought I had it in me. I just write and see where the characters take me. While writing my first release with Totally Bound, Grind, it turned into something hotter than anything I'd ever written before. Before I know it, Grind and the rest of the series got picked up proving to me that I most certainly can write erotic romance.
What can we expect from you next with Totally Bound?
As always, I've got several works on the go right now, with my next Totally Five Star release as my main focus. This one is set in gorgeous St Lucia and is about a couple that meet up again by chance. Jackie and Logan had a past, a hot and heavy one, but they parted ways under circumstances beyond their control. Now thrust together again they find the chemistry is still there but can they get over the past to move forward to a future together?
Like the sound of Breaking Rossi's Rules? Find out more about it by following Kait's blog tour here!