An exciting week for Sierra Cartwright!
Posted by Charlotte Kirton on 23rd September 2015

A great week for international bestseller Sierra Cartwright!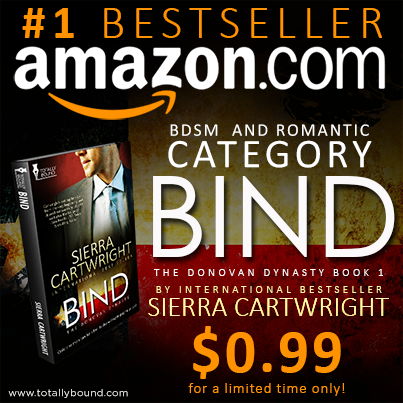 This week has seen some great successes for top BDSM author Sierra Cartwright!
Bind, book one in her The Donovan Dynasty series, is currently number one in Amazon's BDSM and Romantic Erotica categories! It doesn't stop there, Bind has also climbed the bestseller charts on All Romance eBooks! This sensual and gripping title kicked off Sierra's new series with a bang, leaving her fans impatiently waiting for more sizzling scenes and explosive romance from the Donovan brothers.
"This was an emotionally charged, highly sensual book with excellent characters and an intriguing plot. The sex was hot and involved bondage, whipping, spanking and more." – BDSM Book Reviews
The excitement continues! On Tuesday 22nd September, we celebrated the release of Brand, book two in The Donovan Dynasty series. Brand introduces us to another hot Donovan brother, the strong and determined Cade Donovan. This Dom will no doubt fulfill all your erotic romance fantasies!
Within 24 hours of its release, Brand reached the top 10 bestseller list in Amazon's BDSM catgegory – Sierra Cartwright has done it again!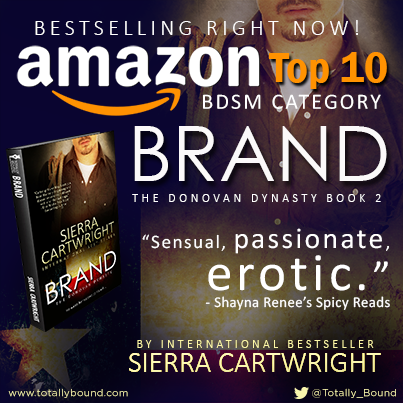 "Sierra Cartwright gives us another sensual, passionate, and erotic romance in her fantastic Donovan Dynasty series. I can never get enough of this author. Her writing is so addicting. Her characters are sexy and strong, and her storylines touch the heart."

–

Shayna Renee's Spicy Reads

As a result of this week's success, Sierra Cartwright has shot up the Erotica author charts and is now number 2! Congratulations Sierra!
---
Visit Sierra's Donovan Dynasty microsite to find out more about the Donovan brothers and the lucky women in their lives.
For more titles by Sierra Cartwright, see her author page.