Bind Exclusive

Totally Bound speaks exclusively to Sierra Cartwright about Bind, the first book in her brand new series, The Donovan Dynasty.
The Donovan Dynasty is a brand new series! So, tell us, who are the Donovans and what is their dynasty?
I'm so excited by the Donovans. You might know that I recently moved to Texas, and I've had a fantastic time learning about the state's history. It's populated with fascinating characters and families. To me, Texas is an amazing place, part of the untamed American West, but also part of the South, with the heat and humidity, along with genteel manners.
As often as I'm able, I go on tours to learn about the Texas Revolution, the Civil War and the evolution of Houston into the country's fourth largest and most diverse city. There's an energy and vibrancy to the Bayou City. But more and more, I come back to the people who made the city what it is. I am fascinated by the brave people who moved to unpopulated areas to settle them and sculpt the future. They invested their time, their hearts, and their energy into creating a legacy.
And I wanted to write the story of one such family.
The Donovans have been in Texas for several generations. William Donovan is the family's patriarch. He married a lovely woman, Libby Sykes. But he had to prove himself. It seems Libby's father didn't think that the army captain was good enough for his daughter. So William worked hard, taking a division of the Sykes' family business and blazing a future for his bride and their children. And now, half a century later, Connor, Cade and Nathan, fully understand their obligations.
I adore their sense of integrity. And I admire the women who are willing to take on these Dominant men and help them realize that love is more important than anything.
This series is set to follow three brothers, what is it you enjoy about writing separate stories about connected characters?
I'm enjoying this series more than any I've ever written. Each family member brings something to the mix, and their interactions are a thrill for me. We have Aunt Kathryn, who's dating a man thirty years younger than her. A crotchety grandfather whose heart is bigger than all Texas and who has decided to start participating in 5k races after his stroke. We also have a sister, Erin, who embraces all experiences. She's smart and energetic, crucial to the success of the Donovan Dynasty, but she does it from a place of heart.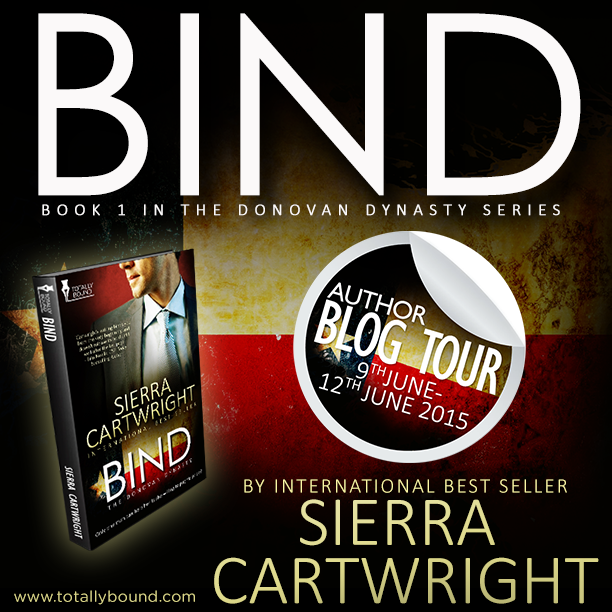 Then the brothers… :::fans self::: I love the interactions between them. They are all men of integrity, men who know what they want and will let nothing stand in their way. And oh, yes, they're all devilishly Dominant.
Cade, the oldest, is the result of his father's wild love affair with a breathtaking woman named Stormy. His father never married Stormy, and while the Donovans accept him, demons from his past isolate him on the family's vast land holdings. He's a bit of a wounded hero, and he makes me want to soothe him. I think I'll leave that to Sofia, though. She's got an amazing blend of strength and determination. And he finds out how powerful that can be when they get stranded together in a powerful West Texas storm.
The first book in the series, Bind, features Connor. While he's technically the second son, he's the oldest legitimate child, heir to the business fortune. But his father's tragic death thrusts him into the role as CEO two decades before he was expected to take the helm. He's bold, dynamic, focused, and he avoids relationships, not because he doesn't want one but mostly because he believes they need an investment of time that he doesn't have. That is, until a stunningly hot woman walks into his office and asks him to marry her!
Nathan, the youngest son, is oh-so delicious. He's focused and energetic, maybe a bit ruthless even. He's taken it upon himself to be the cautious one in the family. So imagine how wonderful it will be when he meets Kayla Lane. The problem is, he's her boss. He's always lived by a stringent set of rules. But his curiosity about her forces him to examine everything he's always believed and take risks that are far, far outside his comfort zone.
Why did you choose to write about two rich and powerful characters coming together?
In Bind, I loved the interplay between Lara and Connor. To me, it wasn't so much that Lara was rich and powerful it was that she is her father's heir. But she sees the firm being mismanaged. And she's desperate to preserve his legacy.
Doing the right thing isn't always easy. Yet Lara battles through her doubts and fears. I adore her for taking a bold stand even when she has legitimate reasons not to. And, even when she finds out that Connor will demand her abject surrender, she's willing to do that, as well.
I also adore watching power couples, like Amal and George Clooney. Or Brad and Angie. It's the idea that being with the right person can make you even better than you were before. One and one equal three. To me, that's the best thing about any relationship.
Connor provides Lara with an outlet for her submissive side. Do you enjoy watching your characters explore their D/s sides with their partners?
Yum, yum, yum, yes! Yes, yes, yes! Dominance and submission is all about trust and communication. (Well, honestly, any good relationship is.) And I love that I can have a hero take the heroine to a place she's never been before. Even if she's previously been in a D/s relationship, it's not like this. This hero will demand things from her that no one else ever has. By submitting to his requests, my heroine will learn things about herself that she couldn't learn any other way. Besides, it leads to toe-curling, heart-thudding sex. And I'm always down for that.
Julien's back! Why did you choose to let one of our favourite characters from your acclaimed Bonds series have a cameo appearance?
Hi. I'm Sierra. I'm a Julien Bonds addict. (Now you say, "Hi, Sierra!")
Seriously, I am. I figured if Bonds makes the coolest electronics on the planet, of course my hero's genius electronic whiz would use Julien's stuff.
Mr. Bonds is never far from my thoughts, and when Connor's phone rang, the only thing I could hear in my head was, "A genius is calling." I was helpless. I couldn't resist the opportunity to spend just a little more time with him.
You are developing quite a number of bestselling BDSM books now! What are some of your favourite characteristics to write for your Doms?
One of the greatest paradoxes in life is the way we can fall in love with someone. And the things we initially adored become the things that drive us crazy. (Yes, I'm speaking from personal experience here!)
For example, I love alpha Doms. I want them to be confident, perhaps to the point others may see it as arrogance. In fiction, it takes my breath away. But the truth is, it can be infuriating. Along with the arrogance comes some inflexibility in terms of rules that they have for themselves and for their lovely submissives. On the other hand, this allows them to be complex and a little flawed, and it gives them plenty of room to be changed and redeemed by a strong woman.
Another thing I swoon about is that my Doms are able to focus their attention so completely on their submissive. It's as if she becomes the most important thing in their world, more critical to him than his business, his work, even his pursuits. Above all, he wants to please her.
What can we expect from you next with Totally Bound?
I'm really enjoying delving into deeper issues in more complex storylines. I adore the interaction I have with readers, and I value their feedback. Longer stories? Check. More releases? Check. A return to the Mastered series to visit Gregorio…? We'll see.
I do promise this…I will write the very best stories I can, and I'll always write honorable males who become the kind of men my heroines deserve.
Check out the rest of the blog tour for Bind and see what else Sierra has to say about this newest release!
Like the sound of Bind?
Buy it here: https://www.totallybound.com/bind