Mad Delights Exclusive

What can we expect from Mad Delights?
You can expect a little more….everything. More violence, more danger, more sex. And who doesn't like more sex? Mad Delights was my way of just breaking free and writing something different. The biggest shake up to my storytelling is the heroine, Chloe. She's a little insane, I would say, and I had a ton of fun bringing out that crazy, while keeping her likeable.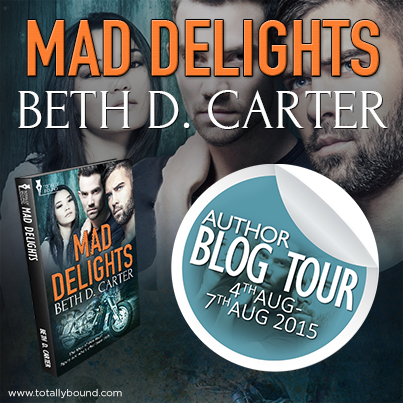 This is linked to your Red Wolves Motorcycle Club series. Why did you choose to write this as a spin-off?
Sometimes, a secondary character can be really charming simply because there's no pressure to develop their backstory. They can be larger than life. So when I wrote the fourth Red Wolves MC book, Lily Roar, I introduced a new character named Romeo. He is the brother of the hero, Branch, and helps fight the bad guys. I really liked his audacity and don't give a shit attitude, and in the back of my mind I had a half formed planned of writing his romance one day.
Your backlist with Totally Bound has many multicultural characters. Is it important to you to show diversity in your books?
In this series, definitely. I wanted to change things up and keep it fresh with each book. I am particularly drawn to the Asian culture. I love watching J-dramas on the internet, anime and reading manga. In the half-formed ideas I had while creating Romeo, I made sure his equal was a kick-ass ninja type girl.
What is it that attracts you to writing MC stories?
It's a challenge to write motorcycle club stories because of the notoriety and infamy they're recognized for. Outlaw bikers are known for violence, illegal activities, and their poor treatment of women. Logically, it's not a culture that's appealing, and yet…it is. It's a typical "good-girl wants to transform the bad-boy" story. Or, in this case, bad-boys.
How did you get into writing erotic romance?
I began reading my mother's Harlequin Romances back when I was about ten. I fell in love with happy ever afters. I wrote my first full length novel as a romance, but always felt something was missing. When I read my first erotica romance, by Maya Banks, I realized what I needed. It was like an epiphany…the heavens opened up, a ray of light shown down…No, not really. But it was an ah-ha moment!
What can we expect from you next with Totally Bound?
The sequel to Mad Delights, titled Madness Ends, will be released in November. It was a challenging book to write because the heroine is deaf, so the usual interaction between the characters had to be re-thought. I had to come up with different ways to portray "said".
As for my next series….still dreaming that up!
Like the sound of Mad Delights? Find out more about it by following Beth's blog tour!