Saddle up for a double dose of deliciousness! Brand has a hot, sexy Dominant who happens to be a cowboy. I love writing about cowboys. Back in high school, I had a friend who was a barrel racer. On summer weekends, she would compete in the rodeo. I was fortunate enough to go along with her. Invariably, there would be a gathering of sorts, including a dance. That summer, I fell for a number of cowboys, bull riders, steer ropers, bronc busters. There's something very, very sexy about a man who takes off his hat to kiss you.
And of course, the hero, Cade Donovan, is also a Dom. I love my Doms, men of integrity, class, honesty, and just the right amount of determination to push my heroine's boundaries and make her toes curl with ecstasy.
Have you enjoyed creating and following the lives of the different brothers in the Donovan family?
The Donovan men are all I could have hoped for. I've never before written a series that featured brothers. In the Mastered series, I had two characters who featured in all of the books. In the Bonds series, the intriguing Julien Bonds was the person who provided the continuity to tie the books together. This time, I have three brothers, along with an interesting dynamic. Cade is the oldest, but he's illegitimate, the child of the only woman their father really loved. It sets up the relationships in way it wouldn't if the siblings neatly fit into the oldest-to-youngest child dynamic. Exploring each one's place in the family and business intrigues me. Secretly? I want them all.
Cade is an enigmatic rancher! Why did you choose to explore life on the ranch in this latest instalment?
One of my favorite parts of writing is the opportunity to research. I had heard about the King Ranch near Corpus Christi in South Texas. The ranch is about the size of the state of Maine, or in British terms, a bit less than the City of London! So I took a road trip out to the ranch and managed to get on a bus for a guided tour of part of the land. I was captivated by the history, the wide-open spaces, and the possibilities. The fact that the ranch house is secluded from the rest of the property presented a lot of opportunities for privacy, which I enjoyed. Having a dungeon in a barn was really a new one for me!
Growing up in Colorado, I had certain expectations of what a ranch looked like. When I arrived at the King Ranch and saw palm trees, I was more than a little taken aback. To me, ranches have pine trees, not lush, tropical foliage. It was a ton of fun to explore the area, meet some of the wonderful people, and enjoy the peace and quiet.
A storm forces Sofia and Cade face-to-face. Do you enjoy writing about fated meetings?
Oh, there's something totally delicious about being stranded with a stranger. There's a saying that everything is bigger in Texas. And since I've moved out here, I've certainly found that to be true about storms. They can last a very long time, come up suddenly, and cause a tremendous amount of damage.
The enforced intimacy forced Cade and Sofia to get to know one another, be resourceful together, in ways they might not have if they hadn't been compelled to spend a night together. It took their meeting from one that was strictly business related and made it into one that was somewhat intimate. Instead of shaking hands and promising to stay in touch, they must sleep under the same roof. Very sexy possibilities for lots of intimate conversation and emotional honesty.
What do you hope your readers will love most about Brand?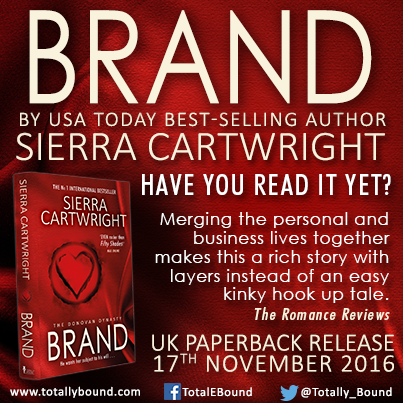 Cade. Cade, Cade, Cade. Cade Donovan is probably the most complex character I've written to date. He's the oldest child, the bastard child, a result of a union between his father and the woman he really loved and not the woman he married. He's a bit of a loner, and he lives a long way from the rest of his brothers. Yet he's a Donovan with all of the obligations that go with it. Cade is somewhat tortured, incredibly loyal, sexy as the night is long. In short, he's a swoon-worthy, uncompromisingly dominant male.
Sofia, the heroine of Brand, is an interesting blend of resourcefully independent and nurturing, a woman strong enough to meet Cade's demands while being sensitive enough to lovingly help crack the ice around his heart.
The complex hero and the resulting complex relationship was really rewarding to write. It's my hope that you'll love both. Oh, and did I mention, hot, steamy sex. And maybe a hogtie…?
Brand is available to buy now in paperback from Totally Bound, Amazon, WHSmith and Asda.
The paperback release of Brand will come to the USA and Canada early 2017. Watch this space for more information!