This bundle includes the following titles:
Claiming the Cowboys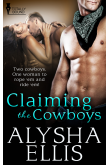 Two cowboys. One woman to rope 'em and ride 'em!
Two cowboys enjoying a passionate bout of sex in the living room is the last thing Sophie expects to see when she arrives to inspect the homestead she inherited from her grandparents. Outraged by what they believe to be trespass, the men insist the prosperous horse stud is theirs.
The confrontation catapults Sophie into a torrid sexual adventure. The only way for her to win is to round up her cowboys and ride 'em.
Reader Advisory: This book contains M/M scenes.
Publisher's Note: This story has been previously released as part of the Lasso Lovin' anthology by Totally Bound Publishing.
Dust and Desire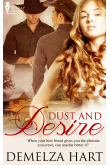 When your best friend already gives you the pleasure you crave, can anyone better it? But tough lives call for tough decisions.
Chase Truman is a man under pressure. He's got a five thousand acre ranch to manage, he's lost Blue Ridge mountain, and he can't find himself a woman. But when he stumbles upon Riff Felton, the man who stole Blue Ridge from him, and finds himself held with a gun against his head, he doesn't resist. His relationship with Riff goes way back, and soon Chase and Riff are making up for lost time, soothing each other's pain in the way they love. But something's missing. Chase wants more and thinks he'll find it in the right lady. Luckily for him, a breakdown on the railroad is about to deliver Miss Adeline Monroe into his hands, a headstrong, wealthy young woman from Boston with a very modern attitude. But is there room for two in Chase's life?
Reader Advisory: This book contains scenes of anal sex and the use of sex toys.
Publisher's Note: This story has been previously released as part of the Lasso Lovin' anthology by Totally Bound Publishing.
A Touch of Destiny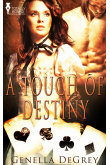 In the American Wild West in the summer of 1880, a widow gets another chance at love with a handsome young wanderer.
Originally from an East Coast society family, newly widowed Beatrice Gaitland is doing her best to carry on with dignity and continue her ministry to the less fortunate in the rugged mining camp of Tombstone in the Arizona Territory. However, survival will be difficult due to the fact that her late husband, Pastor Lindley Gaitland, has left all of their earthly possessions to his brother, Allen.
Handsome Luke Hughson, who rejected taking over his family's Virginia plantation in favour of a more pleasant career as a gambler, has been accused of a murder he didn't commit. Luke finds himself in Tombstone, falling for a widow whom he finds hauntingly familiar and tempting beyond words.
Allen Gaitland, who has lived in the shadow of his older brother all his life, moves to Tombstone to take over Lindley's ministry at the Shepherd of the Hills Church meeting tent. Allen is determined to win over the town and, moreover, his brother's widow.
Sensing he is too much like his abusive late brother, Beatrice does her best to decline Allen's advances, while another man gets under her skin like no one else ever has. She can't help but long for the sensual touch of young Luke, whom she has just met. Of course, it doesn't help matters that Luke flirts with her mercilessly and leaves her smouldering for him.
Reader Advisory: This book is a prequel to 'Whisked Away'.
General Release Date: 15th December 2015