This bundle includes the following titles:
A Demon in Dallas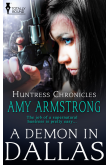 Two years ago, vampire hunter Raven walked out on the love of her life in order to save his, but now that she needs Connor's help to locate a demon in Dallas, can she keep their encounter to business only, or is she about to fall for the sexy were-shifter all over again?
When her partner Matt is kidnapped by vampires, it's up to vampire huntress Raven to locate him. But during her rescue mission, she nearly succumbs to the wicked charms of an evil fairy and is blackmailed by a devious angel who wants her to locate a demon in Dallas. Raven's superior in the hunters' council gives her just seventy-two hours to find Matt before they send in a team of hunters whose mission statement is kill first, ask questions later. Raven's going to need help, but the only person she can turn to is her ex-boyfriend Connor, a werewolf who Raven hasn't been able to get out of her heart or head.
Unwittingly thrown into a battle between good and evil, and with danger lurking around every corner, Raven must race against the clock to locate the demon and rescue Matt, while dealing with her feelings of guilt for walking out on Connor two years ago…even though she only did so to save his life…
Reader Advisory: While this book can be enjoyed as a standalone, it is best read as part of a series.
Birds of Prey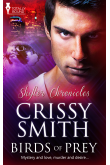 Mystery and love, murder and desire… It's going to be a rough week for the agents of the Birds of Prey shifter division.
Cody Johnson has returned to his hometown as the division leader of the Birds of Prey for the Shifter Coalition. After the local cast leader is killed, Cody finds himself deeply involved in an investigation he can't find any reason for. To make things worse, he runs into Aubrey Reynolds, the woman he left behind once before…and never got over. The longer the investigation continues, the more Cody struggles to separate his professional and private life. But Aubrey refuses to stay out of his case and his thoughts.
Aubrey has lost her Cast leader—her uncle—and has just seen the man who broke her heart. Feeling her world shattering around her, she tries to gain control of anything she can. As a security expert, she is determined to find out who is responsible for Gregory's death and make them pay. If her inquiries put her directly in Cody's path and piss him off, well, that's something he'll have to deal with. She's shocked by how he handles it and unsure how she ends up back in his arms.
With a murderer running around taking out bird shifters, Cody must solve his case fast, especially once he realizes that Aubrey may be next on the killer's list. Now that he finds he is still in love with her, he won't let her go again.
Reader Advisory: This book is best read in sequence as part of a series.
Betrothed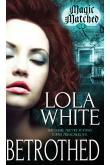 In witching society, magic and politics are the only things that matter, and marriages are arranged for advantage rather than love.
Humiliated by a string of broken betrothals, Ileana Lovasz only wants freedom from her manipulative grandfather. So when she's forced into meeting her next suitor, she decides to give the budding relationship all she's got.
Eliasz Levy simply wants an alliance with Ileana's brother Silviu, a man rising through the witching ranks. That is, until the Lovasz woman arrives at his home and stirs up emotions Eliasz never thought to feel.
Silviu has bigger things on his mind than his sister's marriage. Georgeanne Davenold, Silviu's betrothed and the key to his rise in power, is back in his life after a ten-year separation that left her distrustful of his intentions. Their union is a novelty, spanning the divide between matriarchal and patriarchal Families. Their union is also alarming, combining the influence and magic of two witches only heard of in myth and legend.
Ileana, Eliasz, Silviu and Georgie must build an alliance that will help them all get what they want, but with too many lies and too many enemies, the game they're playing turns treacherous. When the two women come under attack, neither Silviu nor Eliasz knows which is the target. They only know that they will protect the women their hearts have claimed as their own, even though that means defying the traditions of witching society, risking every goal they hold dear and confronting the dangerous members of their own families.
Reader Advisory: This book is best read in sequence as part of a series.
General Release Date: 15th December 2015