This bundle includes the following titles:
Crave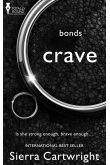 INTERNATIONAL BEST SELLING AUTHOR
She still craved him… The sight of a collar in her boyfriend's drawer had stunned Sarah. Panicking, she had fled. But no other man has ever been his equal.
Two years ago, the woman he'd hoped to collar and marry disappeared. So Reece McRae is stunned to find his former girlfriend on her knees, behaving as the submissive he'd always wanted.
Is it too late? He should refuse her, but an undeniable sexual attraction consumes him.
Sarah had been under Reece's spell from the moment she met him. When she found a steel collar in his drawer, she panicked. The idea of a lifetime of his relentless demands, sensual and otherwise, suffocated her.
In the years they've been apart, she hasn't met his equal. Now, convinced one last night will vanquish his memory, she sets out to seduce him.
The Reece she returns to is even more determined to have his way. Is she now strong enough, brave enough, to surrender to his love?
Reader Advisory: This book contains sensual torment, flogging, anal sex and sex in public.
The Ultimatum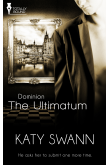 Once a submissive, always a submissive, right? Maybe she needs a little reminder.
Frankie Hamilton is stunned when her husband, Jake, gives her an ultimatum—either she goes with him to a country hotel for the weekend or he'll leave her. In an attempt to save her troubled marriage she agrees to go.
But Dominion is no ordinary hotel. During the week it's an upmarket conference center, but at weekends it becomes an exclusive BDSM hotel. This particular weekend it's Vanilla Spice, where those new or returning to BDSM can explore their fantasies in a safe and decadent environment.
When Jake asks her to submit one more time, Frankie is initially outraged. After all, it's been two years since their D/s dynamic ended and she's no longer a submissive. Is she? She still loves Jake and doesn't want to lose him so she agrees, even if it's just to prove that she's now as vanilla as the ice cream in their freezer.
But Frankie is soon reminded of how delicious it feels to kneel at her Master's feet. Her fondness for punishment and a good spanking leaves her begging for more. And when their old friend and owner of Dominion, Marco Alessi, offers to use her as the subject for a rope demo she's finally forced to face up to her kinky needs.
But that's not the only thing she has to come to terms with. Beneath her tough exterior lies a grief that has been buried for two years. As her submission starts to melt the icy core inside her heart, it sets off a chain of events and emotions that could either make her marriage stronger than ever or completely destroy it.
Reader Advisory: This book contains scenes of anal sex, mild breathplay and public humiliation. There are MFM scenes and references to FF intimacy.
La Brat
Thou shalt not attack thy Dom—especially not with his own cane.
She's committed the cardinal sin, broken the eleventh commandment for submissives. No wonder the Dom she adores wants nothing more to do with her.
Eugenie believes her luck has turned when she lands an interview for her dream job—Events Organizer at Totally Five Star's flagship hotel in Paris. This is her chance to return to the city, which holds cherished memories for her, and pursue a career she loves. Most of all it's a golden opportunity to leave behind the bitter taste of her disastrous break-up with Aaron, the one Dom who can make her melt with a look, a word, a lift of his finger.
Her dream crumbles when she comes face to face with her nemesis, now Director of Security at Totally Five Star Paris, the one man who can wreck her dreams with just a few words.
Aaron has never forgotten the lovely little submissive who broke all the rules. He can do without the hassle of such a high-maintenance sub, but his sexy new colleague proves hard to resist. It's not long before he finds it hard to remember just what his objections were.
Determined not to dwell on the past, Eugenie throws herself into her wonderful new job. If she can only convince Aaron to give her another chance, her life will be perfect. A natural in her new role, against the glamorous backdrop of one of the world's finest hotel chains, Eugenie is in her element arranging a high-profile celebrity wedding. But when things start to go wrong, Eugenie finds herself at the heart of a series of inexplicable accidents.
Aaron doesn't believe in coincidences. Is someone else, apart from him, out to hurt his little Genie? And why? He is determined to protect Eugenie—and get to the bottom of who might want to harm her.
Reader Advisory: This book contains scenes of anal play.
General Release Date: 15th December 2015