Totally Bound's Christmas Cocktails!
Posted by Charlotte Kirton on 23rd December 2015

What's better than sexy Christmas reads? Sexy Christmas reads and cocktails of course! Check out these recipes for amazing seasonal beverages, inspired by some of your favourite festive Totally Bound titles. Enjoy!
Mr. December
In Mr. December, photographer Nicki Lamont gets trapped inside a hilltop mansion with hot model Bryce Anderson, leading to a very spicy and sexy festive situation. Bring some spice to your own Christmas with this Mr. December-inspired cocktail – its fiery romance in a glass!
Ingredients
3-inch pieces fresh ginger, peeled
6 tablespoons superfine sugar
2 oz tequila
1 oz port
3/4 oz fresh lime juice
1/2 oz Simple Ginger Syrup (recipe below)
1 oz chilled club soda
4 small pieces candied ginger for garnish
Recipe
To make Ginger Syrup, coarsely chop the fresh ginger and puree in a food processor. Next strain the mixture through a fine mesh sieve – you need roughly one ounce of ginger juice. Return the juice to the processor and add superfine sugar and mix well. Next, add the tequila, port, lime juice, 1/2 ounce ginger syrup and bitters to a shaker filled with ice. Shake well and strain into an ice-filled highball glass. Add club soda to the glass and stir. Add some candied ginger as a garnish and you're all done!
Get Mr. December by Elizabeth Coldwell here: https://www.totallybound.com/book/mr-december
Mistletoe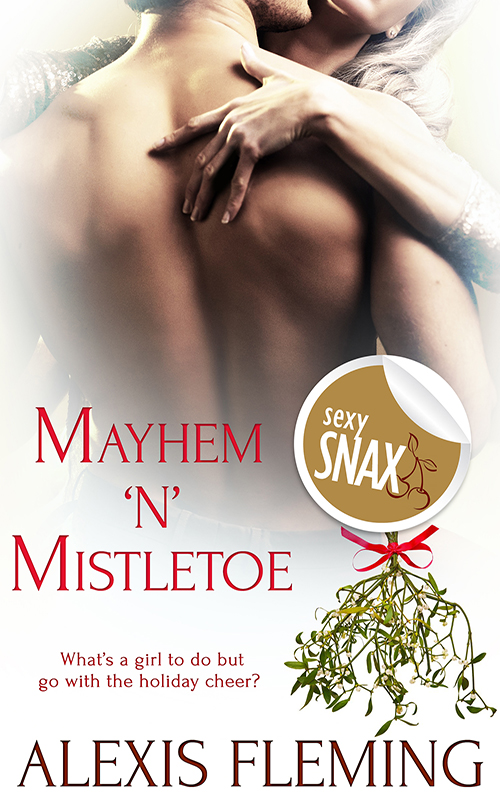 In Mayhem and Mistletoe, our heroine Misty Toll sells Mistletoe juice to fund Santa's revolution to bring back Christmas. Rebellious types can make their own version using this simple recipe below, and have yourselves a very naughty little Christmas!
Ingredients
1 ½ cups cranberry juice cocktail
1/2 cup sugar
2 cinnamon sticks
3 cups dry red wine (such as Merlot or Cabernet Sauvignon)
½ cup fresh cranberries
Recipe
In a large saucepan, combine the cranberry juice cocktail, sugar and cinnamon sticks. Simmer for 15 minutes. Stir in the wine and cranberries and bring back to a simmer. Garnish with a rosemary sprig (it looks just like Mistletoe) and serve warm. Yum!
Get Mayhem 'n' Mistletoe here: https://www.totallybound.com/book/mayhem-n-mistletoe
Santa Baby
In Santa Baby, sexy Santa Luke McGraw seduces his lonely boss Lani Mitchell with a little bit of luck and the Christmas Spirit. If classic Christmas fun is also your thing, try this easy cocktail that combines the tastiest holiday delights – Santa would definitely approve!
Ingredients
1 oz Pinnacle Marshmallow Vodka
1 oz peppermint schnapps
4 oz hot chocolate
Garnish: crushed peppermint candy
Recipe
Combine all ingredients in a mug and stir, then garnish with a candy cane – yum!
Get Santa Baby by Lexie Davis here: https://www.totallybound.com/book/santa-baby
Christmas Miracle
In Christmas Miracles, Tiffany Davis resigns herself to spending the holidays alone with a glass of eggnog until the Ghost of Christmas Past takes her on a visit to find her lost love, Dax. Share this book-inspired eggnog cocktail with your own true love – who knows? Maybe you'll get your own Christmas miracle.
Ingredients
2 cups heavy cream
½ cup sugar
¼ teaspoon nutmeg
4 large eggs
¾ cup brandy
Recipe
In a medium saucepan, bring the heavy cream, sugar, and nutmeg just to a simmer. In a blender, blend the eggs on low speed for 1 minute and gradually add the hot cream mixture. Blend until frothy and add the brandy and blend to combine. Serve warm.
Get Christmas Miracles by Ashley Ladd here: https://www.totallybound.com/book/christmas-miracles
You should also check out our Christmas book list – 16 red-hot winter reads especially chosen for the festive season: https://www.totallybound.com/booklist/perfect-christmas-reads