Madison Night shares her Christmassy coffee recipes!
Posted by Charlotte Kirton on 8th December 2015
Have Yourself a Jolly Little Java by Madison Night
It's the time of year where things get festive, with everything from beautiful, lit-up trees and Christmas decorations popping up everywhere, to candy canes and Santa-themed desserts on almost every table (you know, like those little Santa strawberries – SO adorable).
At a time when reindeer pancakes rule the skillet, why not add a shot of holiday spirit to your everyday cuppa java?
In my book FIREFLY our main girl Libby runs a local coffee house, The Bean. Now, one thing FIREFLY never touched upon – Christmas is Libby's favourite time of year! Living in the oppressive heat of Las Vegas with nary a flake of snow in sight, she feels down in the dumps come Christmastime. Hoping to add a little cheer to The Bean and merrily lift spirits, Libby decided to infuse a bit of good ol' St. Nick's influence into her offerings. Below you'll find two of her best-selling holiday coffee recipes, along with a merry hot chocolate thrown in for the non-coffee lovers out there.
---
Mocha Eggnog
(Recipe and Image credit goes to www.thekitchenismyplayground.com)
Ingredients: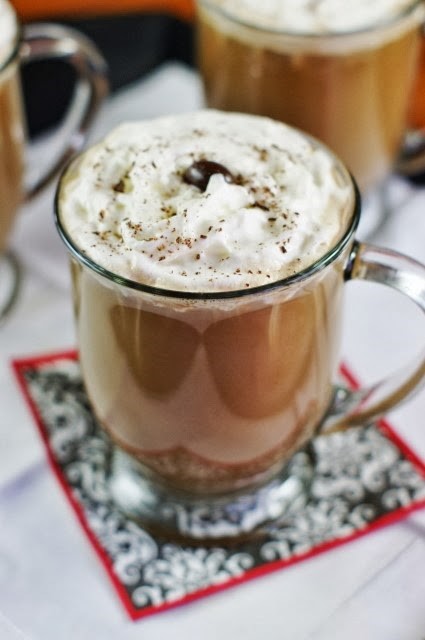 1 quart eggnog
1 cup strong coffee
½ cup chocolate syrup (or Crème de Cacao for a spiked version)
Whipped cream (optional)
Shaved chocolate (optional)
Ground nutmeg (optional)
Directions:
FOR CHILLED VERSION: Chill prepared coffee. Combine eggnog, coffee, and chocolate syrup (or Crème de Cacao) until well combined.
FOR WARM VERSION: In a medium saucepan, combine coffee and eggnog; warm over medium heat until heated through. Remove from heat and stir in chocolate syrup (or Crème de Cacao).
Pour into mugs and top each serving with whipped cream, shaved chocolate, and a tiny sprinkling of ground nutmeg (not too much or the flavor will be too overpowering).
---
Gingerbread Coffee
(Recipe and Image credit goes to www.food.com)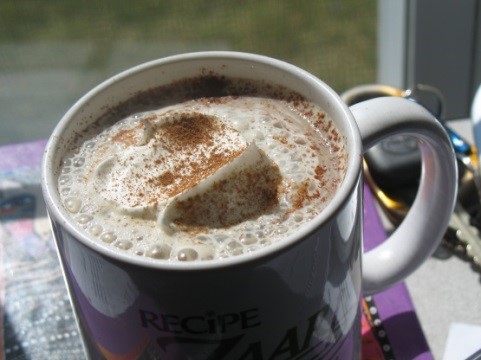 ½ cup molasses
¼ cup brown sugar
½ teaspoon baking soda
1 teaspoon ground ginger
¾ teaspoon ground cinnamon
6 cups hot brewed coffee
1 cup half-and-half
1½ cups sweetened whipped cream
1 teaspoon ground cloves
Directions:
In a small bowl, mix together molasses, brown sugar, baking soda, ginger and cinnamon until well blended. Cover and refrigerate for at least 10 minutes. Add about ¼ cup coffee to each of the 6 cups. Stir about a tablespoon of the spice mixture into each cup until dissolved.
Fill each cup to within an inch from the top with coffee. Stir in half-and-half to taste, and garnish with whipped cream and ground cloves. Recipe yields 6 servings.
---
Caramel Hot Chocolate
(Recipe and Image credit goes to www.cookingclassy.com)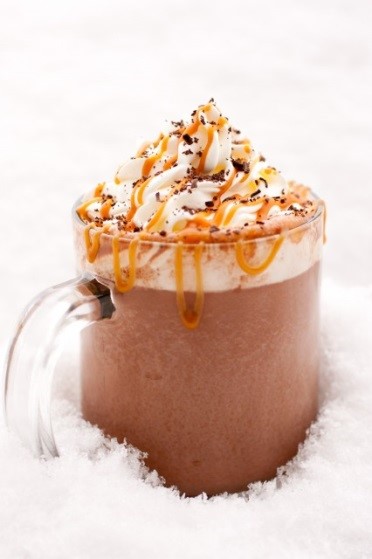 Ingredients:
2 cups milk, preferably whole
¼ - ½ cup bittersweet chocolate chips
½ cup caramel sauce*
Sweetened whipped cream or vanilla marshmallows
Grated chocolate for garnish, optional
*Caramel Sauce, recipe and step by step tutorial HERE
(leave the salt out if you don't want salted)
Directions:
Prepare caramel sauce according to directions and allow to cool slightly. Heat milk in a medium saucepan over medium heat. Once milk is warm, stir in chocolate chips and caramel and cook, whisking constantly, until chocolate has melted. Allow to cool slightly and serve warm, topped with sweetened whipped cream or miniature marshmallows. Drizzle each serving with 1 tbsp. caramel sauce and garnish with grated chocolate if desired. Recipe yields two servings.
---
Careful, you're drooling.
---

Enjoy! Lord knows I'll be dipping into Libby's recipes more than a few times over the next month!
Warmest wishes and all the best to you and yours, during this Holiday Season and Christmastime … and throughout the New Year!
With much love,
~ Maddy
Firefly
by Madison Night is out now!