Editor Faith chooses Mad Delights by Beth D. Carter
Posted by Charlotte Kirton on 7th August 2015

Editor's Choice: Mad Delights by Beth D. Carter
This week's Editor's pick is Mad Delights, the new MC ménage thriller from Beth D. Carter. As we all know from her Red Wolves Motorcycle Club series, Beth possesses the enviable ability to transport us to the thrilling, dangerous world of bad boy biker clubs. Mad Delights is no exception. Set in Nebraska, this gritty, pulse-raising tale surrounds Chloe Matsumoto and her two alpha male lovers, Romeo Barrigan and Daxton Squire. Brace yourself for a captivating plot, red-hot ménage a trios scenes and lashings of suspense and action!
---
Here's what Editor Faith has to say about Mad Delights:
"Mad Delights is raw, unique and oh so entertaining. Beth D. Carter has created a true-life world of motorcycle clubs that gave me a peek at a life most can't fathom. The characters mule drugs, make drugs and run guns, but at the same time they fight human trafficking and support one another. Chloe isn't the typical heroine, either, and some might even deem her a bit mental, but there's a method to her madness and, as the novel progresses, Chloe overcomes her fears and issues in spades. Her two men, Romeo and Daxton, are sexy, strong and highly intelligent men, treating Chloe with respect and deep love. Mad Delights is violent, risky, and thought provoking. Readers looking for something different won't be disappointed with this novel. I've never read anything like Mad Delights and I thoroughly enjoyed editing the manuscript and working with the very talented author."
---
Blurb for Mad Delights: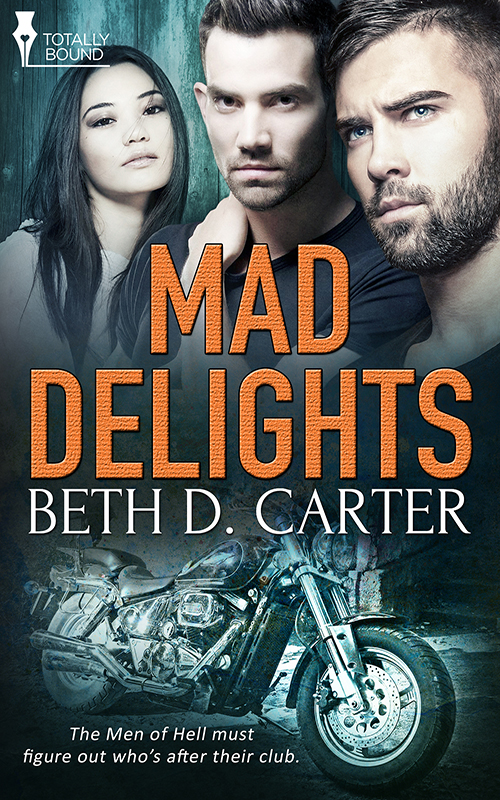 When violence sweeps through their town, the Men of Hell must figure out who's after their club.
Someone is watching Romeo Barrigan's every move. Chloe Matsumoto's favorite pastime is studying the Men of Hell Motorcycle Club's president. Ever since he helped rescue her deaf cousin from the hands of a human-trafficking ring, Chloe has become fascinated with him and now wonders how she can repay him.
Daxton Squire is the enforcer of the Men of Hell. He's filled with self-loathing after failing to recognize the threat from the former club president. When he spots someone tailing Romeo, he vows to protect him at any cost. Only Dax didn't expect to be so attracted to the little stalker.
Violence sweeps through Bair, Nebraska, threatening the town and the club. Romeo has a lot on his plate. Not only does he have to figure out who's after his club, he also has to determine how the hell he ended up in a ménage relationship—and keep those he loves safe from the menace.
Reader Advisory: This book contains scenes of ménage and anal sex, scenes of violence, physical abuse, murder, prostitution, and hints of drug use. There is a scene of dubious consent and some racist language.
Publisher's Note: This book is the prequel to Madness Ends and is best read in sequence.
Publisher's Note: This book is linked to the Red Wolves Motorcycle Club series.
---
Get your copy of Mad Delights here.
Enjoy other titles by Beth D. Carter here.