Editor Sarah chooses Denial by Natalie Dae!
Posted by Charlotte Kirton on 24th November 2015

Editor's Choice:
This week Senior Editor Sarah has picked Natalie Dae's new release, Denial, the newest addition to the What's her Secret? imprint.
Denial is a beautifully-written BDSM contemporary novel with an empowering message at its core: Be true to yourself.
Main character Lori has struggled to come to terms with her innermost desires, suppressing them from herself and her partner. But that was before she met Jaska, a sexy Dom who makes her feel safe and gives her the strength to act upon her true feelings. The only problem is, a term in their contract prevents the pair from moving forward... Will they break down the obstacles to no longer live in denial?
---
Here's what Editor Sarah has to say about Denial:
Natalie Dae has done it again!
A realistic and heart-wrenching honest tale of love. I was with Lori every step of the way throughout this novel. The pain and progression she goes through climbs out of the page. Denial is a genuine story of encouragement to be true to yourself and go for what you want. Life is too short.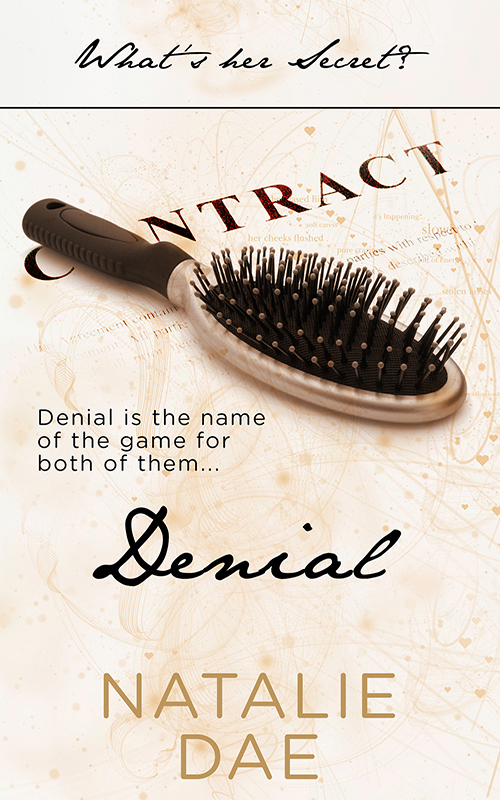 ---
Blurb for Denial:
Her heart had been broken. How could it ever be mended?
Sometimes life has a habit of breaking a person, but Lori's discovered there's a reason for it. Better things are around the corner. She didn't realize that at first, but after things went sour, a light beckoned, an anchor in the form of a man named Jaska.
He ignites her soul, understands her needs more than she does. She embarks on a journey, one that has many twists and turns, and with Jaska guiding her, she doesn't think it can go wrong. Except there are terms to their relationship, a contract they're bound by, and no matter what, they're not supposed to express how they feel about each other. It's dangerous—falling in love isn't allowed.
But Lori has fallen in love, and the year Jaska has given to teach her the ways of the lifestyle is both pain and pleasure—and not only from spankings. It's pain—she loves him but can't express it. It's pleasure—she gets to spend time with him.
Denial is the name of the game for both of them. Deny their feelings and everything will work out fine. But Lori knows that somewhere down the line during this year she'll have to open her mouth and tell him how she feels. The question is—when?
---
About Natalie Dae:
Natalie Dae is a multi-published author in three pen names writing in several genres. Natalie writes mainly BDSM erotica. She loves a Dom/sub relationship and is fascinated by how it all works. The trust issue is the best thing about it for her, so creating characters who have to adopt trust is one of her priorities. "Watching my characters bloom under tuition is such a treat," she says. "I find it such a privilege to be able to write about something that makes me learn something new with every book."
She lives with her husband and youngest daughter in England and spends her spare time reading—always reading!—and her phone, complete with Kindle app, is never far away. "I can't imagine not reading or writing," she says. "It's a part of who I am. Without it I'd be more than a bit lost."
Natalie has many more BDSM tales swimming around in her head, so her workload for the future is very full. "What better way to spend a weekend than writing?" she says. "Saturdays are my main writing days, so I get up, open up a work in progress and rarely leave the desk. Unless I really have to!"
She writes at weekends and is a cover artist/head of art in her day job. In another life she was an editor. Her other pen names are Geraldine O'Hara and Sarah Masters. Natalie also co-authors as Sarah Masters with Jaime Samms, and she co-authors with Lily Harlem under the name Harlem Dae.
---
Get your copy of Denial here.
More from the What's her Secret? imprint.
Find more titles from Natalie Dae here.