Dreamy Destinations
Posted by Holly Gunner on 28th August 2015

What are you getting up to this Bank Holiday Weekend?
Whether you are jetting off to a tropical island or planning a staycation, we have the books for you to while away your days this long weekend.
In our recent reader survey, we found that that 89% of those surveyed read at least one book on their summer break and out of those 41% read more than three! 60% of those asked, said that erotic romance was their preferred genre whilst 96% said that they enjoy erotic romance reads.
So what is about the erotic romance genre that captures British women's imagination? 76% of those surveyed said they were looking for a good old fashioned Happy Ever After and alongside this, 71% were interested in the sexual tension leading to sensual encounters. We have the perfect books with sensual scenes for your summer reading!
What's your ideal romantic getaway? If it's a beach holiday, you would be in agreement with 50% of those asked in our Dreamy Destinations survey. The perfect read for you would be Toy Boy by Lily Harlem which comes to you from the idyllic port of Fiscardo, on the Greek island of Kefalonia. Oxford lecturer Kay cannot wait to finally meet the man she has been speaking to on the Internet, and is astonished when he turns out to be 10 years younger than she thought and looks as good as any Greek god.
If getting to your ideal beaches involves a longer flight, pick up Kait Gamble's Ignite, set on the beautiful beaches of Koh Samui, Thailand. This tale follows two friends on the holiday of a lifetime, as they realise that what they have wanted has been staring them in the face all along.
Want a bit of culture with your holiday? Travel to steamy Marrakesh with Ashe Barker's Chameleon. Two employees for a luxury five star hotel meet on the road outside this famous city, and fall in love in the traditional Moroccan souks whilst playing with cashmere scarves.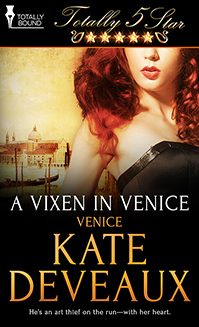 Would you prefer to sit by the pool as your cruise liner drifts around the ocean? How about with two gorgeous men who want to spend the night with you? Her Two Doms by international bestseller Sierra Cartwright will have you reading about the perfect Caribbean cruise.
Always dreamed of escaping on a city break to a major European city? Fancy a sojourn in Venice or Madrid? We have two perfect reads for you! A Vixen in Venice by Kate Deveaux charts the cobbled streets as art thieves run riot and relations run hot. Otherwise, it is just a hop, skip and a jump over to sizzling Madrid to meet Donovan King, or as he is known, The King of Infierno. Jasmine Hill's novel follows young, Australian Mikayla finds herself on the other side of the world with a passionate man, what more could a girl ask for?
If you are more for the staycations here in the UK, and are looking towards a country retreat, you might like Katy Swann's Ultimatum. The story comes from Morgan Manor, a stately English house in Kent, but it's no ordinary hotel—at weekends it becomes an exclusive BDSM retreat. A married couple visit to explore their fantasies in a decadent environment.
Whatever you decide to do this Bank Holiday, have a look through our titles and find yourself the ultimate escapism in our books set in the most dreamy destinations!