Conor Corderoy discusses what women love to read...
Posted by Charlotte Kirton on 18th November 2016
Women and the Thriller Genre
By Conor Corderoy
One traditional view has always been that girls like chick lit and guys like films about explosions and violence. Girls like emotion, guys like to see 'the job getting done'. Girls like romance, guys like sex. But it seems all that is changing.

Assuming it was ever true, women are now refusing to be bound by stereotypes.
The fact is that both in movies and in literature, women are moving more and more into areas that have traditionally been considered a 'male preserve'. For one thing it seems women are bigger readers than men and read more widely, but quite aside from that it appears that increasing numbers of women really enjoy an action-packed thriller, at least as much as men do. Recent research shows that the vast majority of adult women enjoy movies and literature with action, violence and explicit sexual content.
Certainly I have found this to be the case with my own books. Amongst the fan mail I have received I treasure two emails in particular. One from an academic who wrote to me to tell me she had just admitted to her colleagues at an eminent university in San Francisco that she found my character Liam Murdoch 'hot', and another from an 80-year-old lady in Brentwood, in England, who read one of my thrillers in a single sitting, staying up till 4 AM to do so (much to the annoyance of her husband).
Whether this change in women's reading (and viewing) habits is a result of women feeling freer to express their true tastes, or whether it is to do with a sea change in the way women see themselves, is hard to say. For my part I am delighted that a significant proportion of my readership is women. Partly because I have always believed that a well-written thriller is a very legitimate form of literary art, and it is good to know that it is enjoyed by men and women alike. But also because I personally believe that women look for something a little deeper in a novel.
"...women are now refusing to be bound by stereotypes."
The majority of stereotypes have at least a grain of truth in them. And there is no doubt in my mind that when most men read or go to the movies, they are more interested in how the main character solves the problem than in why he or she wants to solve the problem. On the other hand, I am also quite convinced that what makes my books popular with women is the fact that my heroes, though uncompromisingly primal and male in their behaviour and attitudes, are driven by deep, explosive, and sometimes very dark passions. And their passionate motivation towards love, sex or revenge are explored and expressed in gory detail. This allows women readers not only to enjoy the action and the suspense, but also to engage emotionally with the characters.
Maybe this was why my academic in San Francisco thought Murdoch was so 'hot'. Ultimately, let's face it, there is nothing more fascinating, exciting or arousing than passion. And nothing better than engaging with a passionate, driven hero.
---
For Murdoch, women are bad news. Trying to stay alive in war-torn Andalusia, tracking a vanishing femme fatal, hunted by The Brotherhood, the last thing he needs is love…
In Liam Murdoch's world there is no room for love, only the thrill of the game and the fast buck. So when a fascinating client persuades him to be the bagman in a blackmail payoff and he winds up with a bag full of fifty grand in cash and a box whose contents are worth more than that, Murdoch smells the chance to make a stash.
As Europe slides into bloody chaos, Murdoch must travel to war-torn Andalusia in search of the elusive Mary-Jane Carter and the even more mysterious Sinead Tiernan. He must get the answers only they can provide about the box and the sinister Brotherhood of the Goat, who are hunting for it. But once there, what Liam finds is the last thing he needs—love—and his world turns upside down. Instead of chasing cash, he's fighting to save the life of the woman he loves.
Suddenly nothing and nobody is what they seem to be, and Liam finds himself fighting not only a mysterious enemy he cannot understand, but also his own turbulent feelings. He must battle to save a priceless treasure for humanity and the woman he's learned to love from a fate far worse than death.
Reader Advisory: This book contains scenes involving explicit violence.

Murdoch is a wiseass with no time for love – until he meets Maria and she turns his world upside-down.
But it's not only Murdoch's world changing. In the highest offices of power there is a conspiracy to enslave humanity and change the atmosphere, ready for the coming of the Seraphs and their reptilian masters. It's Murdoch's bad luck to stumbled on that conspiracy. Now he knows. And they know he knows.
Murdoch's no hero, but love can change a man. And when the Seraph's abduct Maria, he will literally go to hell and back to save her.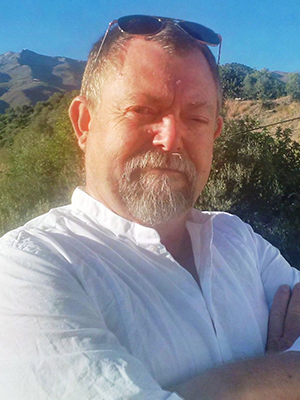 If it's not too late…
---
Conor Corderoy was born in England in 1957. He spent his childhood on Formentera, the smallest of the Balearic Islands among intellectuals, artists and writers. He had no formal schooling, though he had a governess for four years who became an alcoholic and disappeared when he was twelve. He spent his teens in Cordoba, southern Spain, where he got his first job aged sixteen, breaking in wild horses. He has since done more jobs than he can remember, including free-lance writing, law, hypnotherapy and psychotherapy. He now divides his time between England and Spain. He is an Incorporated Linguists, a barrister, a psychologist and a Master Practitioner of NLP. He is the author of Dark Rain, described by James Lovelock as 'compulsive and believable,' the Eden Cypher and Albion Rising.
You can follow Conor on Facebook and Twitter.
---
Love the sound of A Love To KIll For? Get your copy today from Totally Bound, Amazon and other good book retailers.