Dream Destinations: Las Vegas
Posted by Charlotte Kirton on 30th June 2015

Introducing our Dream Destinations feature! As we are sure you all know the setting of a book can really influence its plot development and characterisation. A sexy city thriller can have a faster pace than a smouldering Western title… A hot summer romance novel set on a tropical island is going to take the reader in a completely different direction to a sci-fi story set on another planet.
Our Dream Destinations posts will feature buzzing cities, tantalising towns and the calming countryside. We will take a look at each place's sites and attractions, and show you why our authors have chosen them as settings for their wonderful books.
---
Join us this week as we jet set to…Las Vegas!
What a place to start our journey!
Gambling, celebrities, spontaneous weddings, bright lights, luxurious hotels, fine dining and sparkling nightlife. These are just some of the things that the most densely populated city in Nevada is famous for. And let's not forget the city's tolerance for adult entertainment which gave rise to the name 'Sin City'!
Whether you opt for The Bellagio, The Flamingo or Circus Circus, Vegas has an array of dreamy hotels to provide the perfect escapist experience. A short walk along the strip will leave you in awe! Where else would you find the Eiffel Tower, Pyramids of Giza, canals of Venice and the Statue of Liberty all in one place? As well as the lavish hotels, Las Vegas is renowned for its extravagant casinos, restaurants, shops, bars and clubs. Don't forget to pack those tuxedos and cocktail dresses, for a trip to Vegas means a first-class experience. Get ready for sumptuous nights of endless excitement, adventure and passion!
It's no wonder that so many of our authors have opted to set their Erotic Romance books in this dazzling place. The rush of city life, bright lights and utter luxury all provide the perfect location for mysteries, thrillers, contemporaries and…anything else you can think of! Anything goes in Las Vegas! The surrounding Nevadan desert makes it easy for our sexy and adventurous characters to heat things up!
Grab your eBook, pack your bags and head to Vegas with these totally exciting, totally hot and totally fabulous books from Totally Bound Publishing!
Books:
Vegas Mythbehaving by Kelly Ethan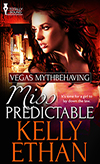 Decades ago the Greek Gods realised they were aging and losing some of their powers. They headed for Vegas – what better place to absorb good vibrations than in the city that never sleeps? When Gods, demi-Gods and other supernatural creatures mix with mortals, emotions run high. A thrilling, tantalising and smouldering series!
Sliding into Home by Anne Lange
Las Vegas is well known for its morning-after-the-night-before shock realisations and Sliding into Home is a fabulous example of just that! Devyn Tate definitely doesn't expect her blind date to be her ex from ten years ago, Jack Bishop. And certainly neither of them thought they'd wake up married! Maybe Devyn is just what Jack needs after four months mourning his ruined baseball career, but can he convince her to give him a second chance?
A Wicked, Wild Three Day Affair by Nadia Aidan
Grant and Monica, best man and maid of honor at their best friends' wedding, take a certain disliking to one another as soon as they meet. Monica refuses to have her confidence knocked by the old-fashioned chauvinist, especially as it took her a long time to gain after years spent feeling like a gangly nerd. They say there's a thin line between love and hate and it quickly becomes clear that animosity is hiding their mutual attraction to one another. The pair then embark on a wicked, wild three day affair that's hotter than the Nevadan desert!
Ready for Him by Tanith Davenport
In the bar at the Bellagio in Las Vegas, Jade Bleecker celebrates with her three best friends, all of whom are there to get married. She's the bridesmaid for all three and starting to wonder whether her tattoos, piercings and passion for martial arts are better suited to inspiring fear in men, rather than desire.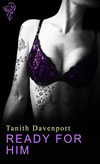 After stumbling upon a mugging, Jade uses her clever moves to make short work of the attacker. Invited up to the victim's room for a nightcap, she is shocked to realise that he's Will Vandenmeer—billionaire poster child of the Vandenmeer hotel and casino chain, and owner one of the biggest BDSM clubs in New York City. Jade finds herself totally drawn to the sensual yet dominant Will, and when he offers to introduce her into the world of BDSM, she accepts…but can she truly give herself to him, and is Will ready for Jade's explosive ways?
Throughout their empty marriage Cara accompanied her billionaire husband Reeve Turner in his jet-setting lifestyle, including his current trip to Vegas, but never really took a liking to it all. Things are shaken up a bit when Cara is introduced to Reeve's old college friend, journalist Logan Winthrop, who was taken hostage during his last assignment and as a result had become extremely shy. Cara joins her husband in helping Logan to emotionally recover and, in doing so, she awakens new feelings for Reeve. Just as Logan's about to fully recover, Reeve unexpectedly asks Cara to help him with one last thing – guiding Logan through a night with a woman. And that woman was to be her.
Secrets, Lies and Vegas by Pamela L. Todd
During a girls' weekend in Las Vegas, Marley Jacobs makes the risky decision to let go of the stress of her reality and enjoy life, even if it's just for one night. Green-eyed and gorgeous Blake Hamilton opens her eyes to all the pleasures Vegas has to offer and allows her to experience something other than the desperate suffocation she has grown accustomed to. When she returns home to New York and the shackles which await her, she has to forget about Blake, and how he made her feel more alive in one night than she ever has in her entire life.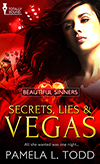 Marley never thought she would see Blake again, but a moment of kismet throws them back together. It doesn't take Marley long to realize that the burning desire for Blake didn't come from the dry heat of the desert. The passion Marley has for Blake is dizzying and without warning, intimacy creeps in.
Falling for Blake isn't part of Marley's plan. She knows exactly how her life is supposed to be and she cannot afford to be distracted by him or his green eyes. The only problem is, for someone she isn't supposed to be with, he seems to fit perfectly within her heart.