January Bain here, all the way from small town Canada. I confess, I LOVE lists. So this post I'm sharing a few things I've learned during my writing journey in that format. I can only hope these tidbits are useful to someone, somewhere!
(1)
It's not just about sex—really! It's actually secondary to the characters and plot. If your story isn't solid, readers won't buy it in any genre.
(2)
While I'm on the topic of genre: mixed genre is all the rage these past few years. Can you tell a great sci-fi story with spicy, explicit scenes added in? Or perhaps a gothic horror erotic fantasy? Mixing it up makes it original and unique and can be your ticket to great storytelling.
(3)
Know your target audience which is the same advice you would get in any genre. And be specific about who you are writing for when approaching a publisher.
(4)
Perspective is pivotal: The female point of view in the first person is powerful in this kind of writing. If you do go for she says/he says, make sure it's in separate chapters to avoid head-hopping. Something I wished I'd learned earlier.
(5)
Be original: readers of this genre are very astute and are as aware of cliché plot lines as anywhere else.
(6)
Write Hot! If your words don't turn you on, who else will be?!
(7)
Enjoy the journey. It can be rewarding in so-o many unexpected ways…
Hugs, January Bain
March 2019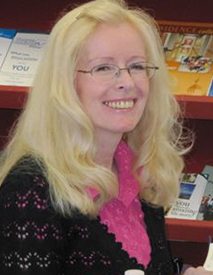 Writer for Totally Bound Publishing
Brass Ring Sorority suspense romantic series:
Winning Casey, Chasing Lacey, Romancing Rebecca
TETRAD thriller series:
Racing Peril, Racing the Tide, Racing the Whirlwind (WIP)