What if paranormal beings needed makeovers too…just like mortals? Guest Post with Tina Donahue
Posted by Heidi Blakey on 5th September 2017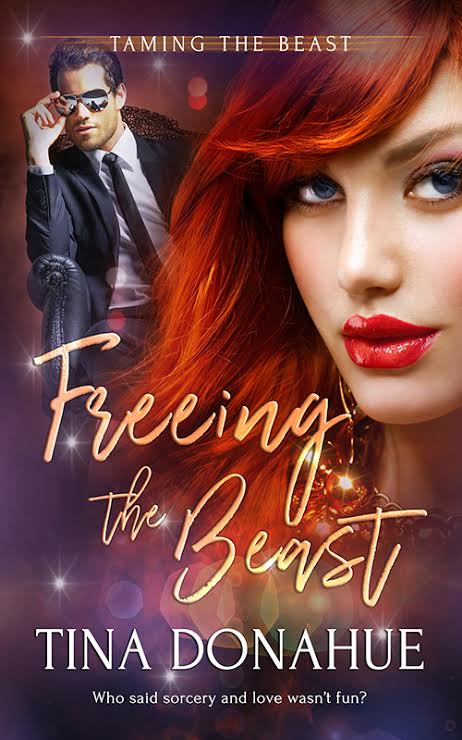 One thing that has always fascinated me about paranormals (vamps, weres, zombies, demons, fairies, etc.) is their unique powers. Vamps who exude romance – as opposed to the creepy kind who are merely out for plasma – can make a woman swoon by giving her a smoldering, come-here-baby look and get her to offer her jugular without any fuss. Weres run like the wind, or a wolf, and as long as they keep their unsightly transformations hidden from mortals, they're doing okay. Demons, well, they have the ability to possess individuals – a neat trick that can make that person do whatever the demon wants. Imagine if a male demon is really into a mortal babe. Possessing her is truly getting under her skin, right? Talk about up close and personal. Hmmm.
However… (yes, there is always a however) what if paranormal beings found that using their powers simply caused more trouble than necessary and the return on investment, so to speak, was lousy? Like in facing exorcisms, purges, or cops asking too many pointed questions – such as, where were you when Becky Ann was drained of blood? That got me to thinking - wouldn't it be better, and easier, if supernatural beings could simply woo mortal women the natural way, as in date nights, flowers, candy, or merely hanging out? Sure it would. But to do that, the paras would have to change majorly, as in an extreme makeover. We've all seen those where an ugly duckling turns into a swan. In this case, it would be a para hopefully suppressing his inner beast.
Thus Taming the Beast was born, my lighthearted paranormal romance series about paras who want to move freely in the mortal world and snag hot women without any hassle.
Here's the series blurb:
Magic has never been as sexy or as fun. In New Orleans' French Quarter From Crud to Stud is the makeover service for supernatural beings who want to tame their beasts so they can date mortal babes. Owned by a half-witch and staffed by a good fairy, a reformed female demon, and a voodoo priestess—among others—the place is always hopping. There's moonlight therapy for weres, aversion therapy to keep vamps from sinking their fangs in anyone's neck, and no end of spells, potions, and treatments. These ladies definitely put the boys through their paces. But it's not all work as they search for their one true love. Their journeys aren't easy, but they're definitely magical.
With the premise in mind, I was eager to populate the books with out-of-this-world characters who still faced problems in the mortal world, like paying bills, running a business, working a job, and falling in love.
Let's meet the cast:
Becca Salt: The owner/proprietor of From Crud to Stud, her brainchild and baby. Becca's a half witch-half mortal who can't concoct a workable potion or spell to save her soul, though she is trying hard to perfect her skills. Magic isn't the only thing Becca's having trouble with. She longs for a guy to love her just as she is – too curvy, kinda feisty, and sorta pretty. In her thoughts, definitely not a guy magnet. She figures that's why everlasting love hasn't happened for her. (Spoiler alert: it will…damn, it will!). So, she's poured her energy into the service. She's one helluva businesswoman and has made the place a success. Helping her run things are her BFFs. Let's meet them.
There's Heather: The good fairy receptionist who never has an impure thought or desire (until she meets the guy of her dreams, then watch out…but I'm getting ahead of myself). Heather's a healer. With one touch, she can fix broken bones, concussions, abrasions, what-have-you. Her talent comes in handy when 'clients' bruise or break something during their moonlight therapy treatments (a must for weres), aversion therapy for demons, or personality courses for zombies. Who said getting into shape was easy?
Then there's Zoe: She's a female demon who's sworn off supernatural powers in an attempt to reform and do things the harder, mortal way like a good person would do (she's still miffed that Satan tricked her into selling her soul). As an enforcer at the service, she makes sure the lusty paras get to their treatment rooms without accosting the female staff. Surrender isn't in her vocabulary until her turn comes for romance.
And Constance: A voodoo priestess. Constance's talent is removing memories by simply laying her hands on someone's head. A definite must when things don't go as planned during the sessions and clients need to forget the screw-ups. That goes double for the guy she sets her sights on.
As I was plotting the series, Sex and the City came to mind. I loved the interaction between those characters, especially how they bonded as friends, and their search for their one and only guy. Taming the Beast is the same, with a paranormal twist.
Because Becca's the star of the series, I had to tell her story first in Freeing the Beast. Wow, does she have a romance to tell. Here's the blurb:
No more Mr. Nice Guy.
For Becca Salt being a witch isn't all magic. Too curvy and lonely, she spends her nights running a makeover service for demons, vamps, weres, and zombies who want to project a more human, normal side. Their goal? To get the babes without the authorities hunting them down like rabid dogs. Once Becca suppresses the worst of their beast, they're on the hunt and gone.
Dating has been a definite bitch for Eric Diletto. Although he's hot and hung, he's also one of Cupid's descendants. A god born to believe in courtship, courtesy, and all that other junk. Tired of women dumping him for the bad boys, Eric hires Becca to release his inner beast. Grrrr.
Two potions later, they're crawling all over each other. With Eric's newfound dominance, he's definitely the man. And the god who intends to take Becca here, there, and everywhere. Who said sorcery and love wasn't fun?
Warning: A witchdoctor's nightmare. Contains potions with weird side effects, a sorceress with limited magical skills and a yearning heart, plus a minor god who wants to get down and dirty. Bad, bad boy.
As you can see, Freeing the Beast and the series isn't your typical para tale. It's fun, sexy, and filled with swoon-worthy romance. To me, that's the best of all worlds.
Heather's tale is up next in Surrendering to the Beast, releasing November 21. Spoiler alert: super-pure Heather definitely surrenders.
Happy reading, Tina Donahue
Learn more about Tina here