Senior Editor Sarah chooses Magenta Starling by Natalie Dae
Posted by Charlotte Kirton on 19th August 2015

This week's Editor's Choice is Magenta Starling, the new time travel and fantasy novel from Natalie Dae. This truly unique, beautiful story surrounds the explosive romance between lovers Dion and Morgan, two captivating characters who you'll no doubt fall in love with. Choose this novel and you'll dive head first into two very different, yet equally captivating worlds. Magenta Starling provides the perfect escapism for any romance lover.
---
Here's what Senior Editor Sarah has to say about Magenta Starling:
"The versatility of the world in Magenta Starling of Thradmos and how it interacts with this one, I found to be a fantastic contrast. The juxtaposition of these two worlds was so eloquently done by Natalie Dae that I couldn't help but be consumed by the tale she's woven here. If you're looking for a story that will transport you to a different land where anything is possible, this is the story for you. I fell in love with every single character in this book, and I honestly can't often say that."
---
Blurb for Magenta Starling: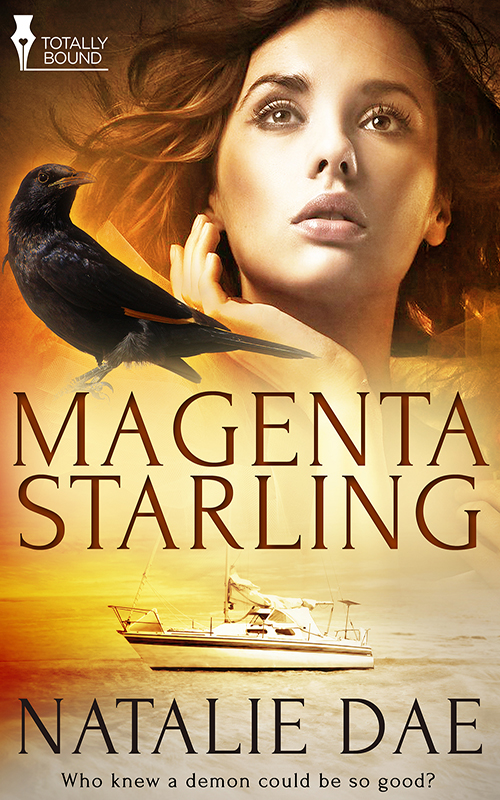 Who knew a demon could be so good?
Cursed at birth, Dion is a demon who has searched for his beloved for centuries. Upon meeting Morgan, he knows she's the one he's been waiting for, the one woman he can love forever, the one woman capable of helping him break the curse. However, Jistin, the curse-giver, has other ideas…
Morgan longs for a relationship and release from her solitary life aboard her yacht, The Magenta Starling. She longs for Dion—who's not all that he appears. When he reveals his feelings for her, Morgan allows Dion to take her to his world, the realm of Thradmos. Her love for him growing even as she struggles to accept his reality, Morgan realizes she would do anything for him—including giving up her life in her own world.
At a party held in celebration of Dion's impending freedom, Morgan is snatched away by Jistin. In a final battle, Dion will fight not only for his freedom, but also that of his beloved, lest he be cursed for all eternity…and lose Morgan in the process.
Publisher's Note: This book was previously published elsewhere. It has been revised and re-edited for release with Totally Bound Publishing.
General Release Date: 11th August 2015
---
Get your copy of Magenta Starling here.
See other Natalie Dae titles here.